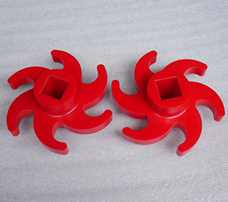 PEPSEN Polyurethane Star Wheels are also called harvesting wheels, separator wheels or destoning wheels, they are mostly used in the screening process for industries such as agriculture, forestry, recycling, mining and aggregate sorting.
In oil sorting process, the main function is to sort pieces by size or to remove waste such as when grading soil.
In the harvesting process, they are used to separate the crop such as potatoes or other root vegetables from dirt and stones, while there is almost no any damage to the crop.
Polyurethane star wheels are tailored made to unique designs rather than being a standard product and PEPSEN Technical Team will help you to develop the correct Star Wheel for your application.
ü In-house prepolymer manufacturing
ü Hardness ranging from Shore 5A to 98A to 80D.
ü Standard hardness: 60A, 70A, 80A, 85A, 90A, 95A
ü Over 30 stocked color options and customized colors available.
ü Standard color: Red, yellow, blue, green, black, orange, transparent, amber, clear, white
ü Free sample available
ü Sample lead time: 10 days
ü Package: Carton or Wooden case
ü Port of loading: Shanghai or on customer request
ü Payment: T/T,L/C,WU, MoneyGram
ü Supply ability: 80 tons per month
Which Application Specific Urethane Formulation Can We Offer?
Ø Abrasion resistant
Ø High rebound
Ø Low compression set
Ø High load capacity
Ø High temperature
Ø Excellent dynamic mechanical formulation
Ø Oil resistance
Ø Solvent resistance
Ø Hydrolysis resistance
Ø Fire retardancy, anti-static, antioxidant, mildew resistance, anti-aging, lubrication and many more…
Why Choose Us?
ü Quick response in 12 hours
ü In-house prepolymer manufacturing and outsourcing prepolymer available
ü Economical and high performance raw materials available
ü Strict analysis and testings on raw material before production
ü Assistance from first idea through prototype
ü First prototype inspection before volume production
ü Quick delivery of prototypes or production needs
ü Design assistance and parts consolidation
ü In-house mold design (Insert, polyurethane, urethane molding)
ü Over 15 years' experience of choosing application specific formulations
ü Custom formulated compounds
How to Get Precise Offer in 12 Hours?
ü Drawing or sketch or sample
ü Hardness range and tolerance
ü Application or detailed working condition
ü Quantity per order and per year
ü Any other special requirements…
Online Enquiry
Urethane Star Wheel for Harvesting and Separator