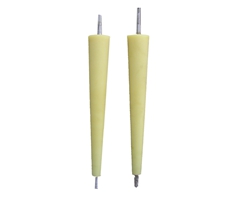 Shanghai Pepsen manufactures polyurethane tapered rollers as per customer requirements including drawings or samples. Hardness is normally 50A-90A, but can vary as well as color.
We are able to meet tight tolerances. Over 20 years' experience in cast urethane allows PEPSEN to chemically apply urethane on steel with great bonding strength. Each roller will be then cast oversized, then turned at our own urethane machining shop.
We can easily process urethane tapered rollers up to 100mm long and 350mm diameter with tight tolerances available. PEPSEN also has several different urethane compounds and formulations for different industries and applications.
Our machine shop includes lathes, grinders, mills and driller for machining cast polyurethane parts. We make complex molds for our in-house use as well as many of the metal parts that are over molded polyurethane into customer products.