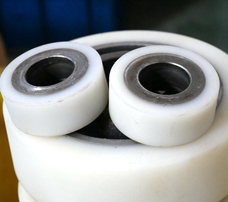 Since 1996, Pepsen has been fabricating various high performance Vulkollan Guide Roller from polyurethane rubber. They are widely used in tough working environment.
Vulkollan Polyurethane Guide Roller
Vulkollan Polyurethane Guide Rollers are made by Pepsen from branded and quality NDI based polyurethane that is equivalent to Vulkollan ,this speical formula is approved by over 30 customers in China and abraod such as Siemens , Volkswagaon and GE. The hardness normally ranges from Shore 80-95A and the natural color is milky white , colorants are not allowed to be mixed for the formulation.
Advantages of Polyurethane Guide Rollers
Polyurethane is a versatile elastomer widely used in almost every applications worldwide. Polyurethane products show lots of advantages over other rubbers and plastics – it is stronger, tougher, more durable,.
Polyurethane's mechanical properties can be adjusted by changing raw material, formulation and additives, which creates unlimited possibilities to solve problems.
Other advantages :
Precision Finishing
High Polish
Superior Bonding
Durable / Resilient
Online Enquiry
Vulkollan Polyurethane Guide Roller