Replace the original parts with higher resistance with Polyurethane bushings with lower friction, and the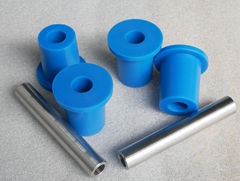 suspension system will be more suitable for sports driving.
1. The steering action is smoother
Polyurethane with self-lubricating formula combined with floating technology successfully reduced the steering friction of the suspension.
As a result, the position of the swing arm can be maintained more accurately, unnecessary movements can be eliminated, the suspension system will become smoother, and the road feel is improved.
After the spring and shock absorber are removed, the suspension action and load bearing are actually tested. The results show that the friction of the suspension is effectively reduced.
2. Material suitable for the chassis
The polyurethane used in the Polyurethane bushings has the advantages of rubber and plastic, and has high durability.
Experiments have proved that it has 3 times the wear resistance of the original bushing, and can be used in an environment of -50℃~120℃. It has strong anti-oxidation ability in air (oxygen and ozone) environment, even if it is immersed in water for a long time. , Its volume and weight have hardly changed, and its performance has not deteriorated. In addition, it is very resistant to torsion and corrosion, making it the most suitable material for suspension parts.
The inner ring used in the Polyurethane bushings is made as thick as possible, and the surface adopts the lead plating process, which has high strength and rust resistance.
3. Develop products according to needs
Some products can be used continuously by inserting the bushing into the original swing arm, and can be completed without special tools and operating experience. Only need simple work, you can enjoy the new feeling brought by replacing the bushing.
Prev New
Next New