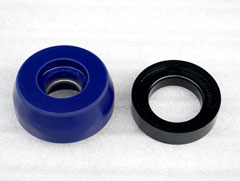 Q1: Do you have stocked urethane bushings?
A1: No. We only make custom urethane bushings.
Q2: How can you offer cost for custom urethane bushings?
A2: Please provide drawing, hardness, quantity and working environment.
Q3: Do you have MOQ for polyurethane bushings?
A3: For parts we have tools, there is no MOQ and custom do not need to pay tooling cost, for customized ones, there is no MOQ either only if custom invests on one mold too.
Q4: If I send you sample of urethane bushings, can you duplicate it or redesign?
A4: It is preferable if customer can provide drawing. If not, customer needs to provide tolerance for critical measurements, we can make drawing and samples for your testing. If tolerance is unknown, customer may try samples onsite and offer feedback, so we can revise mold and send new sample until it fits completely.
Q5: Do you make tools/molds and metal parts by yourselves?
A5: We make simple tools and easy metal parts by ourselves. For some complicated ones, we have six reliable machining works, and two of them have been working with us since 2004.
Q6: How do you apply QC control on custom polyurethane bushings?
A6: We issue first article testing report and send samples for customer to approve before volume production. We have 10 inspectors inspect raw material, samples, operation process, semi-products and final products.
Prev New
Next New